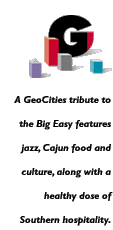 Back to BourbonStreet
Please read the following description of the Bourbon Street Neighborhood and make your choice from the selection at the bottom of the page.
---
BourbonStreet

GeoCities tribute to the Big Easy features jazz, Cajun food and culture, along with a healthy dose of Southern hospitality.
Some possible topics for your BourbonStreet Home Page are:
Cajun/Creole cooking
Jazz artists
Information about the French Quarter
Mardi Gras
Southern culture
Look for vacancies by selecting one of the choices below.
I don't think this is the correct neighborhood for my Home Page. I want to see the other GeoCities neighborhoods before I decide where I want to create my free Home Page.
---
[Neighborhoods]
[Information]
[What's New?]
[What's Cool?]
[Utilities]
All rights reserved